Who is Squish?
He's a comic book-loving, twinkie-eating grade school AMOEBA trying to find his place in the world (or at least trying to make it through a school day).
Visit the official Squish Website:
http://www.randomhouse.com/kids/babymouse/squish/
Here's what people are saying about everyone's favorite amoeba!

New York Times:
"An energetic, good-hearted escapade, one that young readers will enjoy."

Starred Review, Kirkus Reviews:
* "Hilarious. If ever a new series deserved to go viral, this one does."

The Bulletin:
"A perfect mix of writing that is simple enough for early readers but still remarkably snarky, clever, and entertaining. Kids will soak up the humor, tidbits of science instruction, and adventure."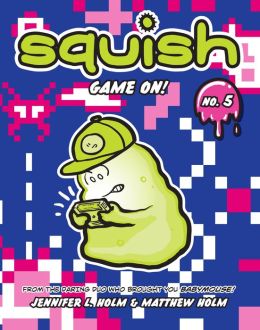 About the Author
Brother-and-sister team MATTHEW "InkBoy" HOLM and JENNIFER "WriterGirl" HOLM are the dashing duo behind the award-winning Babymouse series. In addition to fighting the forces of evil, Jennifer is the New York Times bestselling author of several acclaimed novels, including three Newbery Honor winners, Our Only May Amelia, Penny from Heaven and Turtle in Paradise. Matthew Holm is a graphic designer and freelance writer.