From a young age, children are very curious about their bodies, and this curiosity continues to develop and grow as their bodies do the same! Developing body literacy, an understanding how their bodies work and a knowledge about their own unique body, is a very important skill to foster, especially as they approach puberty. Below are some of my favorite body books for kids of all ages. I especially like that all of these books portray all different types of bodies and bodily experiences, representing diversity in many forms so no child feels as though their body is abnormal.
I love you nose! I love you toes! by Linda Davick
Ages 2-5
Our wonderful bodies-aren't they amazing? Come celebrate all the things that make us who we are-from the tops of our heads to the tips of our toes, to our tummies, our freckles, our dimples, our skin, and everything in between! With silly, rhyming text and bold, simple illustrations, this fun and frank approach to exploring body parts provides factual information that is just right for the young reader.
My Nose, Your Nose by Melanie Walsh
Ages 2-6
This book introduces the concept of diversity, but the approach is very gentle:
Agnes has blue eyes. Kit's eyes are brown. But . . .
they both close their eyes when they go to sleep.
The close-up and lively illustrations of kids and all their cute bits--eyes, hair, skin, noses, legs--will invite readers to tell what's unique about themselves. And at the same time, children will see that there's so much they have in common, too.
The Busy Body Book: A Kid's Guide to Fitness by Lizzy Rockwell
Ages 3-7
A celebration of the amazing human machine and a life on the move! Your amazing body can jump, sprint, twist, and twirl. Your body is built to move. Lizzy Rockwell explains how your bones and muscles, heart and lungs, nerves and brain all work together to keep you on the go. Kids walk and skate and tumble through these pages with such exuberance that even sprouting couch potatoes will want to get up and bounce around—and that's the ultimate goal. Studies show that American kids are becoming more sedentary and more overweight and that they carry these tendencies with them into adolescence and adulthood. Experts agree that we need to help kids make physical activity a life-long habit. Through education, information, and encouragement, this book aims to inspire a new generation of busy bodies!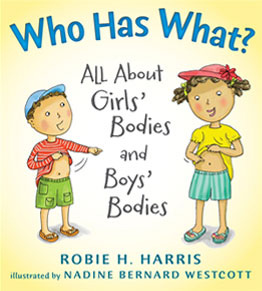 This series for young children provides easy-to-understand facts and answers. Launching the series is Who Has What?, a simple story following Nellie and Gus on a family outing to the beach. Humorous illustrations, conversations between the siblings, and a clear text all reassure young kids that whether they have a girl's body or a boy's, their bodies are perfectly normal, healthy, and wonderful.
Ages 8-10
In her uniquely warm and funny style, Lynda Madaras wrote this entirely new book especially for younger boys to give them everything they need to know about the new and exciting changes that are happening to their bodies during puberty.
Ages 8-10
In her uniquely warm and funny style, Lynda wrote this entirely new book especially for younger girls to give them what they need to know to celebrate and accept the new and exciting changes that are happening to their bodies during puberty.
A comic book for kids that includes children and families of all makeups, orientations, and gender identities, Sex Is a Funny Word is an essential resource about bodies, gender, and sexuality for children as well as their parents and caregivers. Much more than the "facts of life" or "the birds and the bees," Sex Is a Funny Word opens up conversations between young people and their caregivers in a way that allows adults to convey their values and beliefs while providing information about boundaries, safety, and joy.
Silverberg also has an award-winning book for slightly younger children about conception, gestation, and birth called What Makes a Baby.
The definitive book about puberty and sexual health for today's kids and teens, now fully updated for its twentieth anniversary.
It's Perfectly Normal
has been updated with current and correct information on subjects such as safe and savvy Internet use, gender identity, emergency contraception, and more. Providing accurate and up-to-date answers to nearly every imaginable question, from conception and puberty to birth control and STDs,
It's Perfectly Normal
offers young people the information they need — now more than ever — to make responsible decisions and stay healthy.