If you MUST read, here are a few favorites, recommended by Charlie Joe Jackson...
But first, some tips for reading...
1. If you have to read a book, make sure it has short chapters.
2. Make sure you've read at least one book to completion, so that if someone asks you what's your favorite book, you can answer the question.
3. If you absolutely, positively have to read a book, make sure it is on a topic you like.
4. It's possible to dislike reading and still be good at writing (or drawing!).
5. Not all books are bad.
And remember, if the book isn't available at your favorite library,
place a hold
or have a librarian request it for you!
Delivery of Doom by Dan Taccarino
When Luno's dad FINALLY gives him the responsibility of delivering pizza orders all over the galaxy, Luno is excited, mostly. He knows that delivering pizza is no walk on the moon. There are hostile customers, and there's always the threat of his deliveries being intercepted by Quantum Pizza, the fast-growing chain restaurant that will do anything to put indies like Zorgoochi Intergalactic out of business.
Otis Dooda by Ellen Potter
Meet Otis Dooda. Yes, that's his name. Go on and have a good laugh. He's heard it all before. He's been called things like Otis Poopy Stink and Otis Toilet Twinkie. That's right, yuck it up and get it out of your system. We'll wait.
All right then. This is the story of Otis and the Dooda family (including their rat named Smoochie) moving to New York City, and the incredibly strange, but true, things that happened to them. It all started with Otis getting cursed by a guy in a potted plant in their apartment building lobby, and then meeting a bunch of their neighbors, including a farting pony named Peaches who was disguised as a dog. And that was just the first day.
My Life as a Joke by Jake Tashjian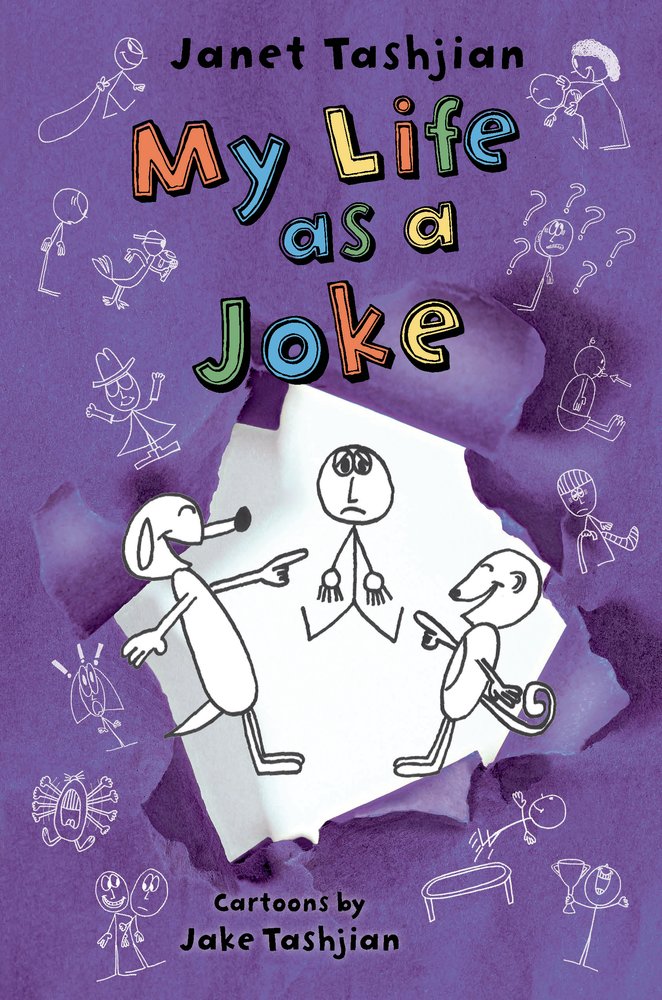 Derek Fallon discovers all the angst that comes with being twelve--he just wants to feel grown up, but life gets in the way with a series of mishaps that make him look like a baby. He passes out during a worm dissection in science class, falls flat on his face in gym class and gets a fat lip that causes him to lisp all day, and his plans for a monster-truck party turn into a bouncy house disaster. Why isn't being in middle school as great as Derek imagined? Thankfully, with a little help from his friends--and, ironically, a Toys for Tots fundraiser--things seem like they could start shaping up at last.
Justin Case: Rules, Tools, and Maybe a Bully by Rachel
Vail
Justin Case made it through third grade and summer camp in the previous two books. Now he's in fourth grade, and there's even more to worry about: friends, bullies, grades, tests--and did we say bullies?
Once again, Rachel Vail and Matthew Cordell bring to life all the worries and triumphs of elementary school life, in diary form. Fans will relate to Justin and his adventures.
Stuck in the Middle (of Middle School): A Novel in Doodles by Karen Romano Young
In
Stuck in the Middle (of Middle School)
by Karen Romano Young, Doreen and her family had to move because of her once she got kicked out of school. She's vowed to make her new middle school work for her, but it's still a challenge, given her ADHD, her younger sister's growing popularity, and tensions between her parents, as they all adjust to a new city and new jobs. Add to that a lot of homework, a talent show, and her first [gulp!] school dance, and you'll agree that Doreen needs to work extra hard to stay focused. Good thing she has her doodle-journal!
Katfish by Obert Skye
Rob Burnside's life is in ruins. After his escapades with Pinocula and his resulting outrageous lies, everyone is fed up with him. In this Creature from My Closet book by Obert Skye, Rob needs help. And his science laboratory closet is there to give him a hand. Meet Katfish, a mashup of Katniss from the Hunger Games and the Little Mermaid. This girl is strong as nails and sports a tail.
Everyone at Rob's school is excited about an upcoming riff on the Hunger Games created by Principal Smelt: the Fun-ger Games. Rob is less excited because the principal and his mom have roped him into participating. But Katfish is sticking around to help Rob out with girl advice, Fun-ger Games tips, and how to get people to stop hating him. What could go wrong?
Blurbs from Amazon.com